Many individual components were stamped with their own manufacture date. The component dates can provide an indication of the period that the car was produced.
It should always be noted that some components may not be original to a particular car. Given the high compatibility of parts between Minis, it is possible that parts have been changed throughout a car's life.
The list of items presented on this page is non-exhaustive, with more components being stamped with dates than included here.
Electrical
Lucas Electrical components were the most common items to be stamped with a manufacture date. For these, the date is in the format of 'M YY' (e.g. August 1961 is 8 61).
Wiper Motor
An easy to access component is the wiper motor in the engine bay. The date is stamped on the flat section of the top cover.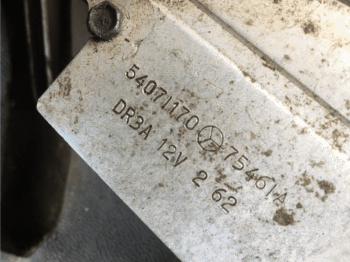 DR3 wiper motor stamped '2 62' (February 1962).
Generator/Starter Motor
A date is stamped on the outer casings of the generator and start motor.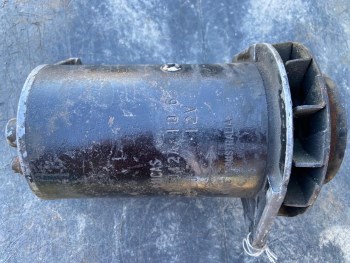 Generator stamped '10 65' (October 1965).
Coil
A date is stamped on the end of the coil in small print.
A coil stamped '2 60' (February 1960).
Voltage Regulator
A date is stamped on either the side or the top of the voltage regulator.
Voltage regulators stamped with date on side (L) and top (R).
Horn Push
A small date is stamped on the inner side of the steering wheel horn push.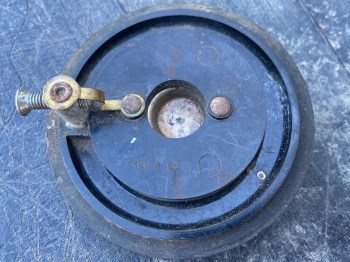 A horn push stamped '2 64' (February 1964).
Brake Drums
Brake drums were cast with their manufacture date on the inside in 'D M YY' format.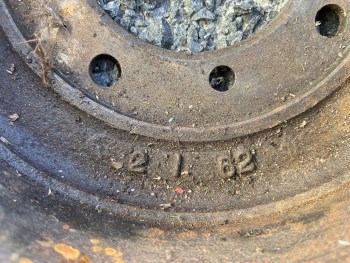 Brake drum stamped '2 1 62' (2 January 1962).
Window Glass
Original window glass is typically marked with details of the manufacturer. See Glass Dates for more information.
Last updated 18 March 2021