EVERY once in a while we motoring scribes get the opportunity to road-test a vehicle of outstanding character.
It may be a car of luxurious comfort, a sports job with fantastic performance, or a set of wheels with incredible fuel economy.
The new Morris 850, released throughout Australia on March 23, doesn't fit specifically into any of these classifications — but it combines many of the characteristics of all three in one unique, exhilarating package.
Comfort? — Yes, it has unbelievably roomy comfort for four big adults and will even take a fifth — plus a fair whack of luggage.
Performance? — Yes, of the eager, get-up-and-go kind that will soon earn you a booking if you don't learn to watch the speedo.
Economy? — Yes, that too. I got 41 m.p.g. on a throttle-punishing 150-mile test, so 45 to 50 m.p.g. should be the average in normal use.
To these qualities you can add sports-car handling, thanks to the combination of an all-independent rubber suspension and front-wheel drive; an ability to deal with rough country roads that's second to none; a nimbleness that allows it to be parked in 11½ feet of kerb space; and an overall design so refreshingly different, yet thoroughly successful, that several overseas testers have called the Mini-Minor (as the Morris 850 is known over there) a "new form of motoring."
I'll go along with that. And the Australian price of this "new form of motoring" is a modest £775, including tax.
B.M.C. call it "the incredible Morris 850" and that's no exaggeration, says Bill Daly. Roominess and performance are unbelievable – until you've sampled them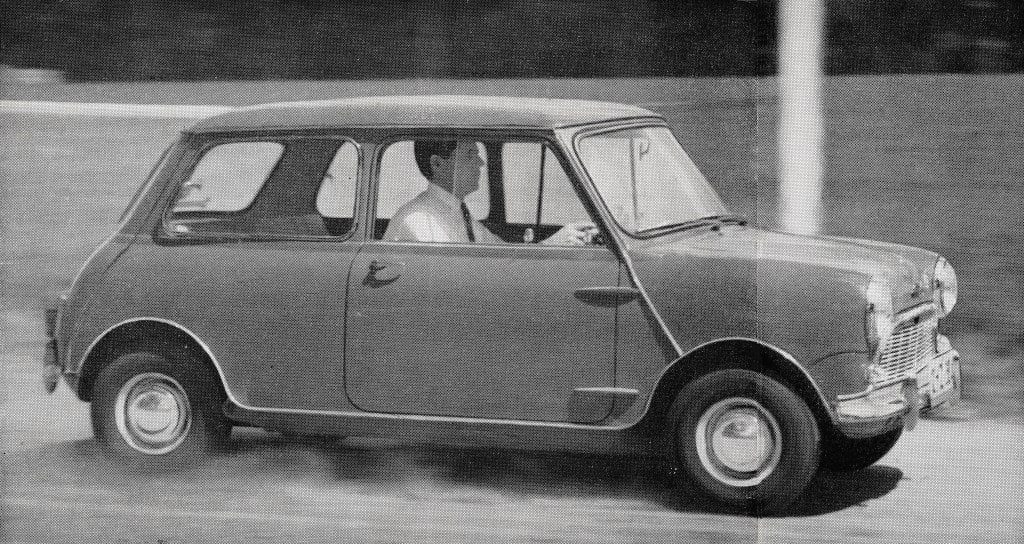 Scooting at 50 or 60 m.p.h. over rough dirt roads is nothing to this new Morris with its all-independent rubber suspension. Note length of cabin — almost like a big car's
Daring Innovations
The story of the 850's unusual design has been told in previous reports by Modern Motor's London correspondents, so I'll confine it to a brief summary:
It is the brainchild of Alex Issigonis, creator of the post-war Morris Minor — the most successful car B.M.C. had produced until now.
Issigonis was entrusted with the project five years ago and given a completely free hand, so he was able to give full scope to his ingenuity.
He promptly discarded most conventional concepts of design and came up with a car full of daring innovations, the major ones being:
A transverse-mounted engine;
Front-wheel drive, with the entire transmission (except clutch) packed into the sump;
Rubber suspension, independent on all four wheels.
He had actually built an "East¬to-West" engine and front drive unit as far back as 1951; later he experimented with an air-cooled, opposed-piston two-stroke as well as rear-engine, rear-drive layouts, but finally went back to his original scheme, as being the most space-saving as well as the most satisfactory all round.
The final prototype emerged with a Morris Minor 1000/Austin A35 type 948c.c. engine, fitted transversely between the front wheels and water-cooled from a side-mounted radiator. The whole power/transmission pack occupied only 20 percent of the car's 10-foot length, leaving the remaining eight feet for the sole use of passengers and luggage.
This compactness was achieved by taking the gearbox off the end of the engine and incorporating both the gears and the final drive in the sump. The longer driveshafts gave better working conditions for the universal joints and reduced the number of noise and vibration-producing points to a minimum.
Weighing only 11½ cwt. at kerb and churning out 37 b.h.p., the prototype proved such a speedster that it frightened B.M.C. into reducing engine capacity to 848c.c. before they put the car into production.
Much as I wish they'd left things as they were, I must admit it was a wise move. Not that the Mini-Minor (sorry, Morris 850) couldn't handle the extra, power—they hot 'em up to 100 m.p.h. in England, and do such crazy things as beating Jaguars home in races—but B.M.C. had to think of all the beginners who would buy this as their first car.
Besides, the remaining output of 34 b.h.p. still results in an uncommonly generous power/weight ratio, as our road test will show. But first, let's take a good look around this Morris 850.
At first glance the body lines appear more utilitarian than graceful. But they definitely grow on you and when you come to realise just what this little car can do, it begins to look downright pretty, in a cheeky sort of way.
Let's see what's under the front lid (you open it from outside, unfortunately—there's no internal catch). The space here is chock-full of engine from wheel arch to wheel arch, packed into a depth of 18 inches from front grille to bulkhead.
Distributor, spark plugs and generator seem rather exposed to the elements on the air-intake side of the engine. But overseas testers who raised the same objection later had to admit they struck no ignition-wetting problems.
Carby and manifold are on the bulkhead side of the engine but still easily accessible; the clutch looks oddly out of place, bearing near the offside wheel arch.
Two Australian modifications in the engine compartment are a multi-bladed fan (to increase airflow through the radiator and also reduce noise) and soundproofing material on the bulkhead. Screen washers are fitted as standard.
Servicing couldn't be simpler. Since engine, gearbox and diff share the same sump, one oil-change does the lot!
Major repairs will be easy, as all major mechanical components are carried on two sub-frames. One carries the complete engine-and-transmission unit, while the other – a lighter sub-frame – carries the rear suspension.
What's under the rear lid? – Five and a half cubic feet of luggage space, along with a 5½-gallon fuel tank, the spare wheel and the 12-volt battery. Not a lot of luggage room for four persons, perhaps – but there's lots more in large pockets and shelves inside the car, and the bottom hinged lid can be let down to the horizontal position to accommodate bigger loads.
General finish of the all-steel welded unitary-construction body is good, paintwork excellent. Chrome plating on the test car's bumper bars didn't look so hot, but B.M.C. explained that the first few 850's were pushed through in an almighty hurry so they could be run-in for tests and demonstrations; this sort of thing should be ironed out as production gets into full swing.
To ensure that it would rain on the weekend, I washed the 850 as soon as I got it. The job did not take long, but I discovered some little nooks and crannies that need dextrous finger-work to clean out properly. Oh, well, you can't have everything! (Incidentally, it DID rain.)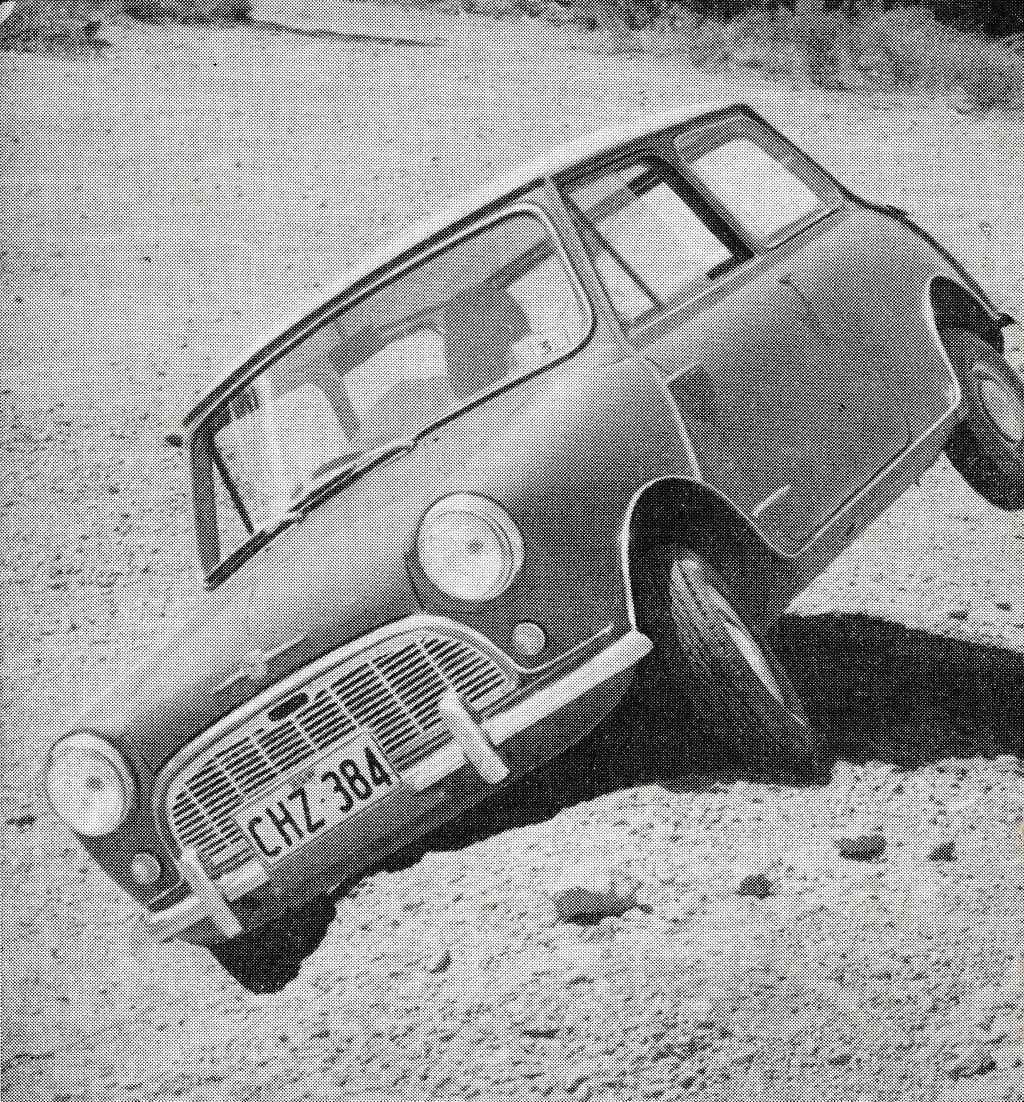 Stability is another incredible feature. We drove the car into this position, climbed out of passenger's door and shook it fiercely—it still refused to roll over
Here's the "East-West" engine. Clutch is at left, radiator right, transmission in the sump
Cutaway explains vastness of 850's accommodation: entire "mechanics" occupy only one-fifth of the car's overall length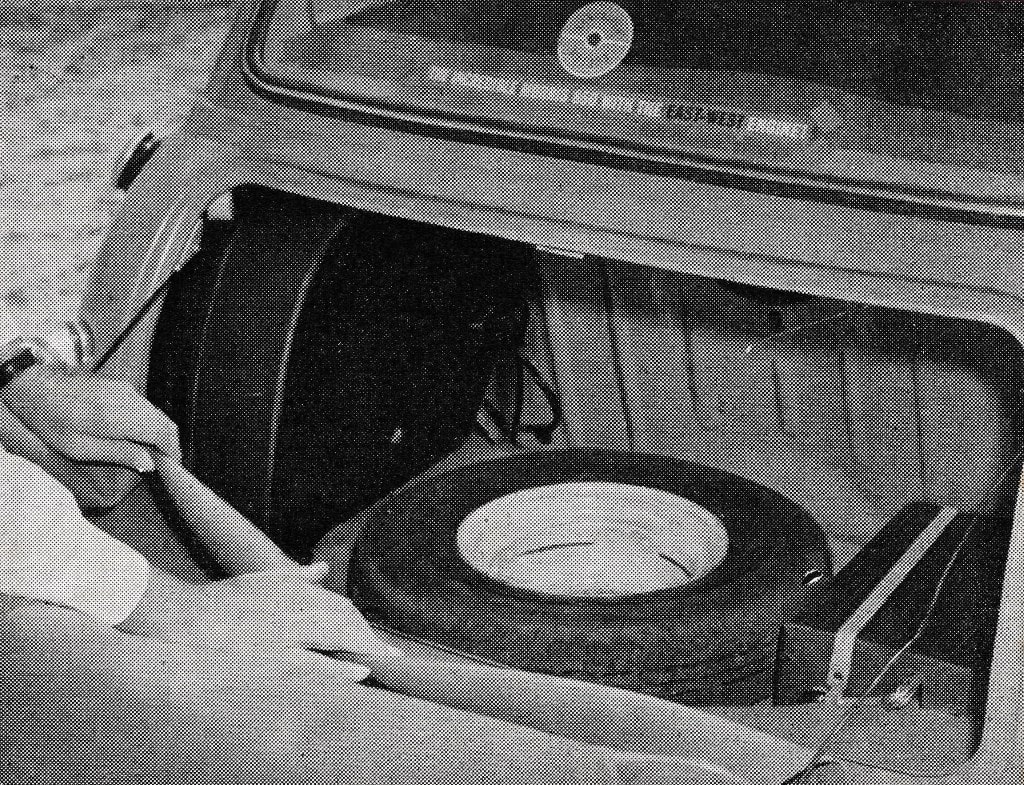 Boot holds fuel tank, spare tyre and neatly boxed in battery but still has 5½ cu. ft. of luggage room; its lid can also be used for carrying.
It's BIG Inside!
Now for the interior.
One big, wide door on each side gives easy access to both front and rear seats (the front ones are hinged to tip forward).
The 850's English sisters, the Mini Minor and Austin 7, use sports-car style cables inside instead of door handles. B.M.C. Australia have replaced these with neat little press down levers — a far better arrangement, and I'm told it's being adopted by the home factory.
The lower half of each door is occupied by a vast, box-like "pocket" that would take at least half-a-dozen of "the best," and there's also a deep,  rigid pocket each side of the rear  seat (these rear pockets also have built-in ashtrays) .
Add to this a deep full-width shelf in the space normally occupied by the dashboard, another under the rear window, and a useful recess under the rear seat, and you get an amount of inside storage for parcels and small luggage that even the largest Detroit juggernaut cannot match.
Rear windows can be hinged open to leave a two-inch ventilation gap at the trailing edge. A good idea—but sliding windows in the doors strike a slightly jarring note.
Admittedly, it is possible to stick your head out through the opening to look rearwards when reversing, and signal-arm movement is not nearly as restricted as in other small sliding-window-type cars.
Even so, would rather have wind-down windows and no "bottle department" –but perhaps I'm being over-critical. The need to keep prices down obviously decided this point.
Seated in front, there's tons of room to stretch your legs yet still leave ample knee space for the rear seat passengers. Placing the engine sideways does make a tremendous difference to the accommodation!
Upholstery, trim, headlining and floor mats are all washable and attractively styled. The test car had a bit of ugly spot-welding showing between the front seats, on the box-section strengthening cross-member – but this was probably one of those "pilot model" blemishes that will be ironed out in production.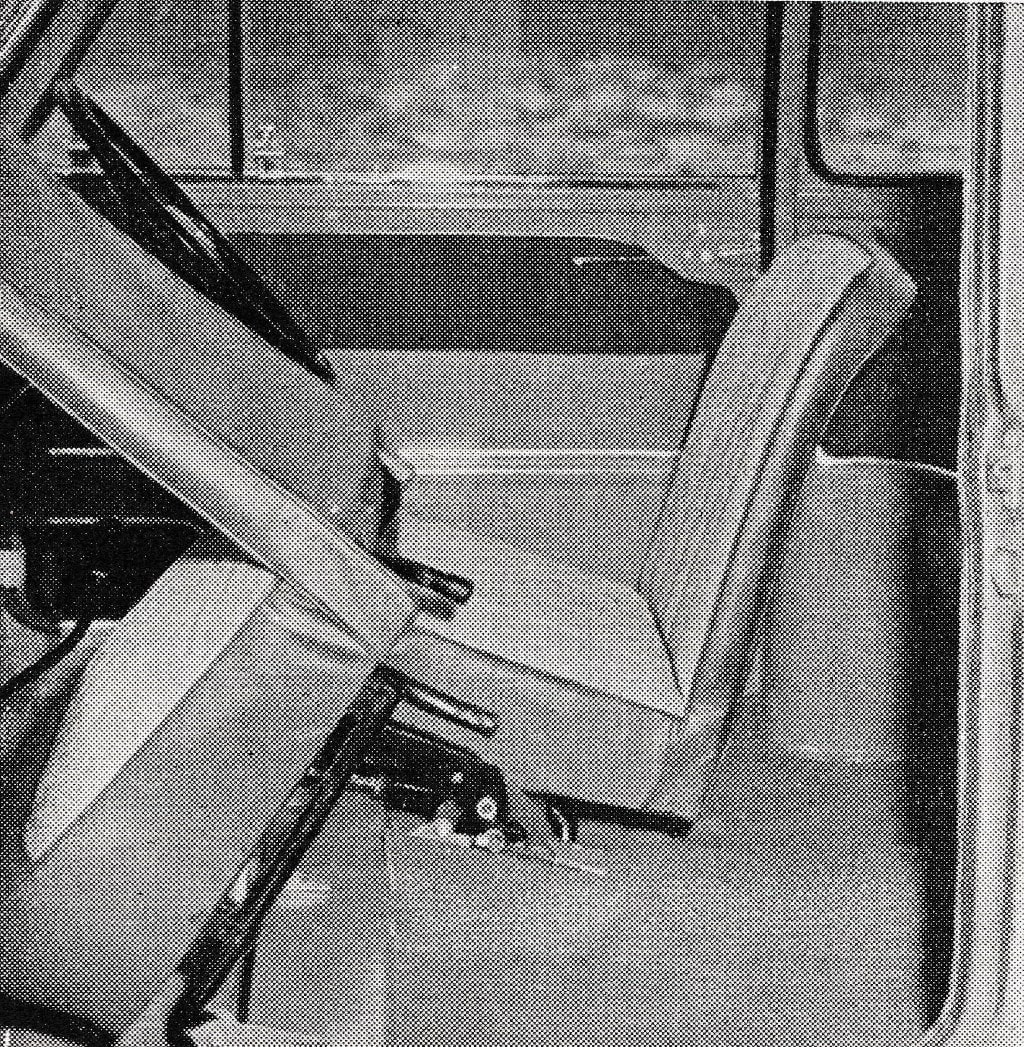 Wide doors, tipping seats make entry easy. Door handles replace pull-cords in Australia.
Controls, Instruments
The instrument panel would never suffice for a Boeing 707, but it's fair enough for the Morris 850, consisting of a round speedo dial that incorporates a fuel gauge and warning lights for oil, ignition and high beam. Though mounted in the centre of the open facia, the speedo is easily read by the driver.
A small central panel set into the rim of the parcels shelf carries the ignition lock, flanked by neat toggle switches controlling the lights and the twin, parallel-action screen-wipers. Alongside them, on the driver's side, is the choke control—and between this and the steering column sits the press-button that operates the screen-washers (a most useful piece of standard equipment, since the windscreen of the low-slung 850 is prone to get covered with mud or dust on a country road).
Two more toggle switches, one on each side of the speedo binnacle, operate separate lights for the instruments and the parcels shelf.
Provision is made for fitting a heater-demister—an optional extra on the 850.
The long, floor-mounted gear lever wag straight in the English cars, which brought its knob uncomfortably close to the floor. B.M.C. Australia have fixed this by bending it up near the tip, so that the knob is now almost vertical.
The comfortably placed pendant pedals are also easy to operate, as is the starter button—placed on the floor, in front and to the left of the driver's seat.
However, the starter button is "live" even when the ignition is switched off. Not a good point if small kiddies have to be left in the car alone.
A good, efficient lever-type handbrake is easily get-at-able between the front seats—full marks to B.M.C. for not succumbing to fashion and making a push-pull under-dash torture instrument of it.
The steering-wheel is set at a rather truck-like angle—but, by crikey, it's comfortable. It makes the 850 one of the few British cars that allow you to extend the arms in the comfortable, full-control "ltalian" position.
On the steering column below the wheel are two fingertip-operated "stalks" – one for the self-cancelling turn flashers, the other for dipping the headlights.
The horn button is centrally mounted in the two-spoke steering wheel, which turns the 10-inch road wheels through a rack-and-pinion system from lock to lock in a sporty 2 1/3 turns. I don't go much on the horn note—it sounds squeaky and could be a bit louder.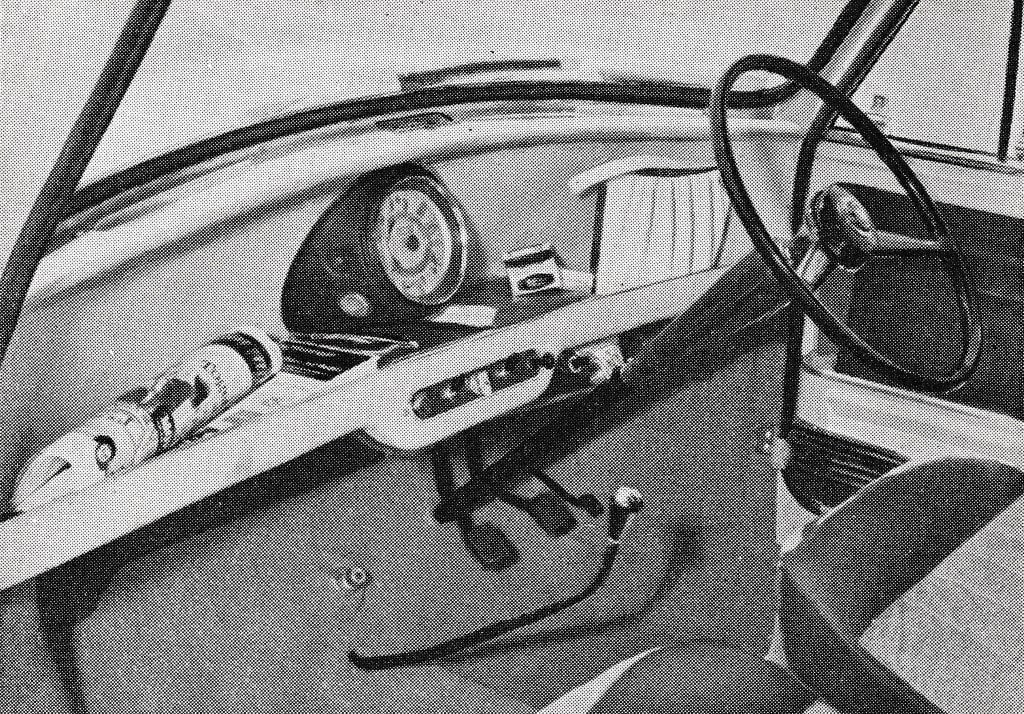 Wot, no dash? Instrument binnacle simply sits in the centre of a huge open parcels shelf. The bent-up gear lever is an Australian modification
Off Like a Bird
You've now been introduced to the car, so let's get going.
Poise your pencil over the performance data pad and keep one eye on the Vane electric rev-counter. Oh—and brace your feet, too!
One touch of the starter button, and the overhead-valve motor ticks over quietly, like a well-oiled sewing machine. A touch of accelerator—not much—clutch out, and the car moves off smoothly and easily, indicating plenty of torque low down.
Steady throttle pressure and quick, easy gear-changes bring us into top gear surprisingly quickly, yet with plenty of revs and power up our sleeve.
Let's try it again—this time with bags of revs in first. Clutch out . . .  and rubber slabbers away fast as the front wheels spin under the driving force of the powerful little motor— wheels desperately trying to get grip on the road. The 850's kerb weight of only 11½ cwt. isn't a great load to carry, either.
Looks like being an interesting test — so out with the stopwatch.
Amazing Performer
The front tyres scream briefly in protest as we start our 0 to 30 m.p.h. and 0-40 tests: 23 m.p.h.—change to second; 30 m.p.h.—stop one hand of the stopwatch; 40 m.p.h.—still in second—stop the other hand.
What have we got? Five seconds flat for 0-30 and 8.2sec. for 0-40. Say, that's not real bad! Let's try for more.
Revs mount and fade, mount again. The gear lever "snicks" as it is moved rapidly to second at 23 m.p.h., third at 38 and top at 58. Our stopwatch clicks dutifully at 50 and 60 to record standing-start times to those speeds of 13.2 and 21sec.
Now the standing quarter-mile. Again the front wheels claw the road while the motor roars encouragement and the gear lever "snicks" vindictively as it is moved a shade too hurriedly for its liking. Result of all this hustle-and-bustle is 22 seconds dead — near enough to a good Holden time, egad!
Passing acceleration is equally eager. In top gear, we get from 30 to 40 m.p.h. in 5.5sec. and from 40 to 50 in 6.5; drop down to third, and these figures are cut to 4.2 and 5.5sec. respectively.
Looking into my crystal ball, I can see the racing circuits of Australia absolutely choked with great swarms of Morris 850's, all bored out to 1000 c.c. and making the big sedans look sheepish as they rocket around like the proverbial bats out of Hades, doing incredible things with class records and such.
A Delight in the City
But that's the enthusiast's viewpoint. I must control myself and get back to the everyday motorist's angle. Back straight-and-narrow under heavy braking.
My advice would he not to hit the brakes too hard when cornering and apply full "panic stop" pressure only when all wheels are in a straight line.
Also, with the drive on the front wheels, it can be difficult to get traction when starting off up a very steep hill with only one or two persons aboard. If a lot of wheelspin results, angling the car slightly across the gradient helps to make a cleaner take-off.
Revolutionary as the Morris 850 is in design and performance, it would have encountered some sales resistance if its thirst had not been in proportion to its size.
But — amazingly, when you consider what this little car can do — its fuel economy is in the true baby-car class.
We got 41 m.p.g. over 150 fuel-guzzling test miles. This should mean at least 45 m.p.g. with normal everyday motoring, and around 50 on long country trips.
If you doubt this, remember that B.M.C. sent an 850 twice round Australia with four adults and luggage aboard — and it completed the trip at a fuel cost averaging just under a penny a mile.
Many a car claims to be a penny-a-miler, but only a handful live up to it; this one does.
Other Points
What else do you get with the Morris 850 for your modest investment of £775, tax-paid?
A turning circle of 30ft. — very good, considering the front-wheel drive and crosswise-mounted engine;
Easy dismantling for cheap repairs: engine, transmission, radiator and front suspension can be removed as a complete assembly, and the rear suspension can also be taken off in a matter of minutes;
Rattleproof construction, without any nuts or bolts — except the eight mounting bolts that attach front and rear mechanical assemblies to body;
The "no-maintenance-needed" rubber cones in the suspension, and rubber universal joints on the driving shafts (nothing to lubricate below).
Ready availability of factory-developed twin-carburettor set-ups and other hot-up kits for those who want them (very reasonably priced, too, say B.M.C. Australia, who expect to market them here very soon);
Many small refinements, such as brass door hinges instead of the usual brittle castings, ashtrays for every-one, pleasant color combinations (but I wish they'd made those sun-visors a bit bigger — they don't give much protection from a setting sun).
Another good thing is that the 850 will be the first B.M.C. car to be handled by both Morris and Austin dealers; it won't be produced here under the Austin 7 tag (as in England), so the duplication of names on the same product, which we've never really liked, will not arise in this case.
You may think me crazy, but the only way I can sum up the Morris 850 is by saying that it's a car that's small outside, but big inside — and with a big car's performance and riding comfort.
If the 850 doesn't shatter Australian motorists' prejudice against small cars, nothing ever will!
SPECIFICATIONS
ENGINE: 4-cylinder, o.h.v.; bore 63mm., stroke 68.25mm., capacity 848 c.c.; compression ratio 8.3 to 1; maximum b.h.p. 34 at 5500 r.p.m.; maximum torque 44ft./lb. at 2900 r.p.m.; S.U. downdraught carburettor, electric fuel pump, 12v. ignition.
TRANSMISSION: Single dry-plate hydraulic clutch; 4-speed gearbox synchromeshed on top three; ratios, 1st 13.658, 2nd 8.177; 3rd 5.316; top 3.765; reverse 13.658 to 1; final drive to front wheels through helical spur gears, universal joints and open shafts; drive casing in unit with engine and gearbox; final drive ratio, 3.765 to 1.
SUSPENSION: Independent all round; front by rubber cone spring units, upper and lower suspension arms attached to swivel-pin hubs by ball-joints; rubber cones and trailing arms at rear; telescopic hydraulic shock-absorbers all round.
STEERING: Rack-and-pinion, turning-circle 30ft.
BRAKES: Lockheed hydraulic, 67.5 sq. in. lining area; mechanical handbrake on rear wheels.
WHEELS: Ventilated discs with 5.20 by 10in. tubeless tyres.
DIMENSIONS: Wheelbase 6ft. 8in.; track, front 3ft. 11¾ in., rear 3ft, 9 7/8 in.; length 10ft., width 4ft. 7in., height 4ft. 5in.; ground clearance, 7 1/8in.; front seat width (bucket) 1ft. 8in., rear bench seat 4ft. 1in.
KERB WEIGHT: 11cwt.
FUEL TANK: 5½ gallons.
PERFORMANCE
CONDITIONS: Warm and overcast, with occasional showers; no wind; two, occupants; premium fuel.
BEST SPEED: 70 m.p.h.
FLYING quarter-mile: 65 m.p.h.
STANDING quartet-mile: 22.0s.
MAXIMUM in indirect gears: 1st, 22.5 m.p.h.; 2nd, 37.6; 3rd, 58.
ACCELERATION from rest through gears: 0-30, 5.0s.; 0-40, 8.0s.; 0-50, 13.2s.; 0-60, 21.0.s.; 0.70, 35.2s.
ACCELERATION in top (with third in brackets): 20-30, 5.6s. (3.5); 30¬40, 5.5s. (4.2); 40-50, 6.5s. (5.5); 50-60, 8.8s.; 60-70, 14.2s.
ACCELERATION in second: 10-20, 2.4s.; 20-30, 2.0s.
BRAKING: 28ft. to stop from 30 m.p.h. in neutral.
FUEL CONSUMPTION: 41 m.p.g. overall for 150-mile test.
SPEEDO: 2 m.p.h. fast at 30 m.p.h.; 5 m.p.h. fast at 50; 8 m.p.h. fast at indicated maximum of 78.
PRICE: £775 including tax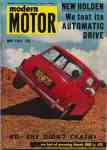 Modern Motor
MAY 1961
This article was originally published in the May, 1961 edition of Modern Motor magazine.
Last updated 18 August 2021