Review: Vehicle Engineering Series – Morris 850
As the Morris 850 approaches sixty years old, the first ever book to be dedicated to the history of the model has just been published.
Despite almost six decades passing since the first Mini came off the Australian production line, the collection of publications for local models sadly remains minimal.
The arrival of Vehicle Engineering Series: Morris 850 was therefore much anticipated. Authored by Tony Cripps, the book joins other BMC and Leyland related publications including Leyland Cars in Australia: a chronicle (2019), continuing exploration into the history, experiences and knowledge from original employees at the company.
Format
Vehicle Engineering Series: Morris 850 is essentially a compilation of factory engineering drawings with supporting commentary. The preface describes it well, being a unique hybrid of a typical parts list and workshop manual:
"This book fits in somewhere between a service parts list and a workshop manual."
The book isn't going to give you step-by-step repair or restoration tips, nor is it a definitive guide on every part that makes an 850. It is, however, an interesting insight into what went into the designing and manufacturing of the Australian Morris 850.
It is impressive to see that so many original drawings are still in existence after sixty years, and it is fantastic that they can be shared with an audience wider than just their custodians.
Content
The first chapter is devoted to a historical introduction of the model, incorporating sections on design and model introduction and production. There is a brief touch on the 850s UK origin, but is predominately Australian focused.
The remaining eighteen chapters are devoted to different areas of focus, starting with the power unit and finishing with tools. These are logically sorted, much like original factory publications.
Each chapter is made up of extracts from original engineering drawings (occasionally the full drawing sheet), with accompanying captions and written paragraphs from the author. The comments are used to both explain the drawings and go into further background detail that is not illustrated. The book concludes with a series of appendices with extra general supporting data.
While the content is naturally focused on the Morris 850, owners of non-850 Mini models will find a lot of content relevant, although it of course omits some later model features such as wind up windows and hydrolastic suspension.
Presentation
The book presents well, with a smart cover design, thick soft cover, and quality pages. A nice touch is the heading reflecting the real script of the Morris 850 boot badge.
Inside, with such great emphasis on the engineering drawings, it is unfortunate that many have lost their quality in the smaller print format. This is of course a compromise for being able to see the drawings in any form - the economics and practicality of a full-scale book would naturally be prohibitive. There is perhaps an opportunity for large scale drawings to be provided in a digital format in the future.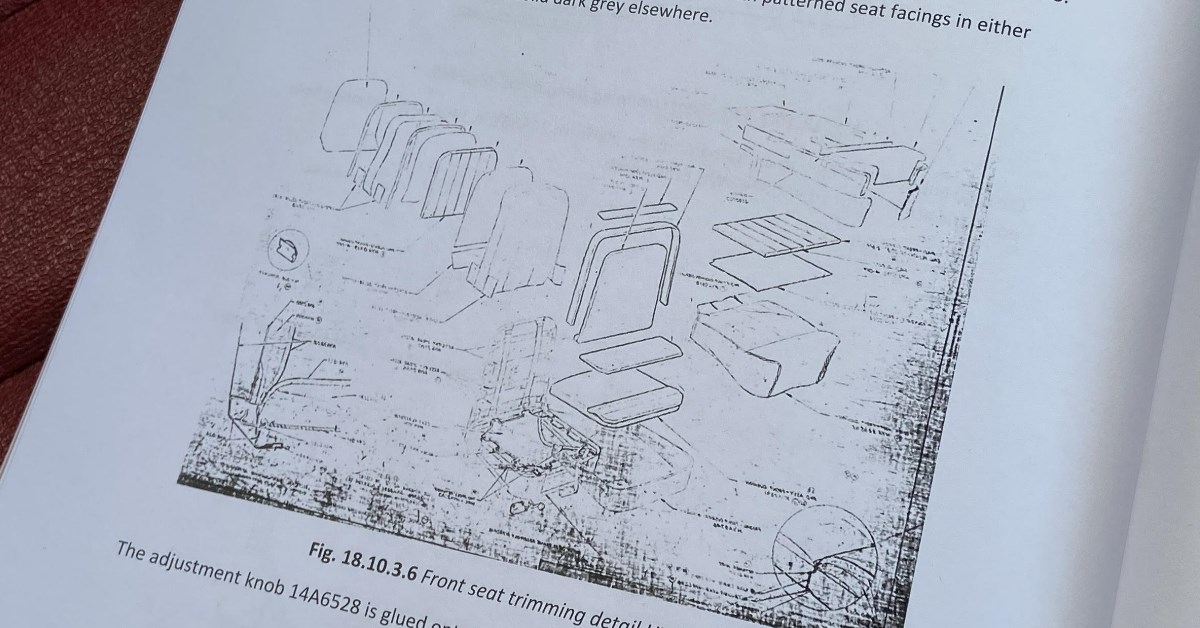 Resources
The book has been compiled from a considerable base of factory documentation as well as first-hand contributions from original factory employees. Together these form a thoroughly resourced and highly credible publication.
Understandably, not every element or period of production was able to be covered in the book. Thus, if you encounter a car that does not align with what is published, it potentially relates to a different period of production not documented. An example is seat colours. Listed on page 216 are four colours ('blue, green, grey or red with solid dark grey elsewhere'), however far more colours are known to have been used at different points in production.
Experience has likewise shown that factory documentation does not always reflect what actually happened in production, particularly for times of change over. While it is a great resource, period documentation should not always be taken as gospel. If you encounter an original car that does not align with what is published, consider some further investigation - there is potential that it is still original and unmodified.
Neither of the above detract from the credibility of the book in question, however. It undoubtedly remains the most significant published resource for the Morris 850. There have been hints by the author of future books in the 'vehicle engineering series' for other models, which would only build further on what has been learnt in this first edition.
Book support
An initiative not usually seen is the provision of corrections through an online 'book support' page. This has many benefits above waiting for a new edition to be published. Currently there are two pages relevant to Vehicle Engineering Series: Morris 850 published online.
Occasional posts are also made on a Facebook page from the publisher, sharing further insights and items that did not make it into their published books.
Final word
A valuable contribution to the documented history of Australian Minis, Vehicle Engineering Series: Morris 850 is an unusual but worthy addition to the collections of owners and enthusiasts.
You can purchase Vehicle Engineering Series: Morris 850 directly from the publisher, either via their website or eBay listing, priced at $65. Allow $17.50 for postage. The book is published by Fischer-Cripps Laboratories (August 2020) and printed in Australia.
Hopefully interest in the format proves sufficient for other models to be explored in new instalments of the series. Nowhere else are you going to find such Australian-specific illustrated Mini history!
This website has no affiliation with Fischer-Cripps Laboratories. No compensation or reward of any kind has been received in the course of completing this review.